FileLinx CRM+ makes complicated processes simple: you always take the right action at the right moment.
Why have a module for CRM?
Sometimes, important business information is scattered across various systems. Or worse: you have to leaf through thick folders or there is a colleague who carries crucial information around in his head. This not only makes processes inefficient, there is also a risk that important actions are not taken. What you need is one system that gives you an overview of all your data sources. This way, you will always have a grip on your process, you will minimise errors and customers will get the right treatment.
Complicated processes? CRM+ makes it easy
Customers get the treatment they deserve
Direct cost savings through tighter processes
Improved cooperation between departments
CRM+ thinks along with you: automatic alerts when action is needed
Elimination of individual packages and shadow IT
Never search for information again
No work duplication
Automation and standardisation of the process
Not an extra system, but one good solution
To save your files in a structured way, it is necessary to link them to relations or contacts. Our CRM business solution ensures that your relations get the attention they deserve. Businesses are often kept up to date in different systems, which means that there is no coherence between these data and a lack of overview arises. In CRM+, actions can be automated into workflows, so that the system automatically sends a reminder when action is required.
FileLinx combines the best of 3 worlds
Get rid of all your separate systems and choose one solution that creates cohesion. This is possible with CRM+. We combine the best of CRM, DMS and workflows.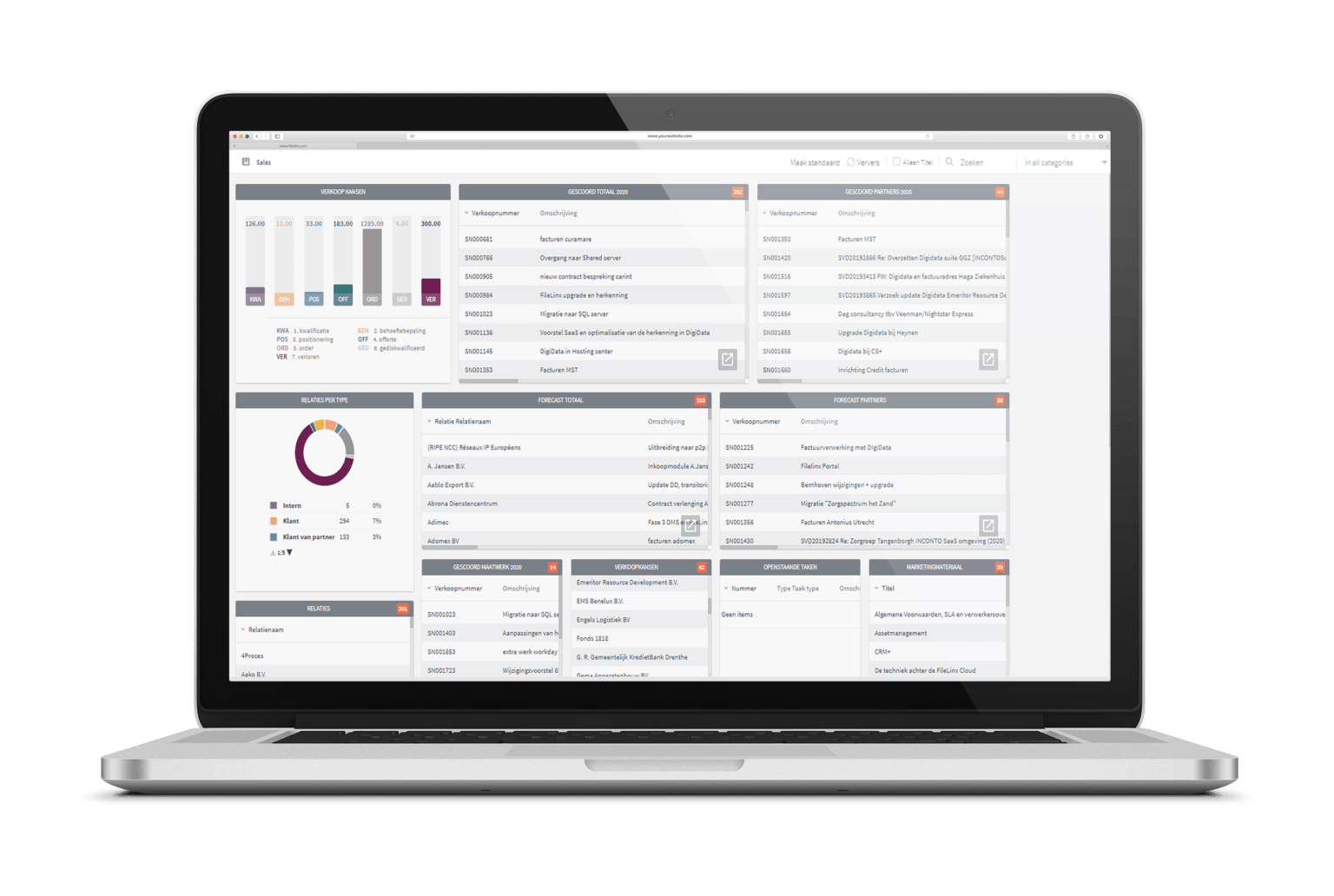 Relationship management
Partner management
Communication
Marketing
Forecast
Offers
Orders
Curstomer file
Project management
Service
Customer file
Templates and merge
Drag and drop files and e-mails
Secure documents
Collaborating on documents
Sharing documents and file
Always online
Archive function
GDPR
Central dashboards
Overview of work and actions
Action buttons and authorisations
Process standardistation customised
Tasks with Outlook link
Email alert
Chat function
Timeline (audit trail)
The solution for all your processes
FileLinx CRM+ is much more than just a standard CRM. Customer management is just the beginning! Invent a process and with our no-code solution, we will make it efficient and simple Some possible scenarios:
You draw up a quote and CRM+ passes on to Procurement which parts need to be purchased. Does the quote exceed a certain amount? Then it is automatically sent to the calculator for checking.
CRM+ generates a work order with a checklist. When this is ticked, an audit trail is immediately created.
Which team works most efficiently and makes the fewest mistakes? Using the data in CRM+, you can manage your employees.
And that complicated workflow that you have never been able to automate? We bet we can streamline it for you!
FileLinx CRM+ has various functionalities. Below, you can see how each tab works in different videos.
The advantage of FileLinx CRM+ is that you are actually getting a standard solution that you can adapt in no time to the processes that make your organisation unique. Because our application has a modular structure, you can start small and optimise your process further in stages.
Link CRM+ to Invoice+ and automate the procurement process from request to payment. This way, you will always have an overview of the receipts, orders and expenditure.
No matter how ambitious your wishes in the area of Procurement, Invoicing or CRM may be, our super-smart experts will gladly take up the challenge for you! The result: a solution that streamlines a complicated process and is easy to use.
Invoice+ is the next step
To really optimise your purchasing process, you should not start with the receipt of an invoice, but with the needs of the user. Recognising information on invoices is a speciality of FileLinx. Meanwhile, we have been optimising the process preceding the invoice together with the customer for over 20 years, which has resulted in our procurement module.
View the whole procurement process
Purchase to Pay or the purchasing process is the complete process from
request to payment including the monitoring of budgets.
FileLinx ensures that we save time with automatic matching.
"If you manually process purchase invoices, you are typing a lot of data. Thanks to DigiData, we no longer have to do this ourselves. That saves us a lot of time."
FileLinx offers a document management system that stores and searches data from all business applications, documents and email.
"FileLinx is ideally suited to retain the functionality of (customized) applications while at the same time having standard software that can be easily adapted because the software can be modelled."
Complicated processes made easy
No matter how ambitious your wishes in the area of Procurement, Invoicing or CRM may be, our super-smart experts will gladly take up the challenge for you! The result: a solution that streamlines a complicated process and is easy to use.