We combine our efforts with the best solutions in the field. Join us!
As an IT or consultancy company, you will be familiar with this: you need a specific business solution, but you don't want a long and expensive implementation process. With our no-code software platform, you can develop your own business solution – quickly and easily. It is also possible to build our standard solutions according to your specific requirements.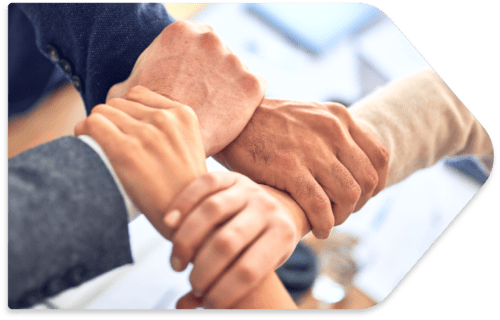 We are looking for technology and implementation partners
Experience has shown that a partnership works particularly well in one of the following scenarios:
You are an IT company that puts its own ERP or financial software solution on the market and, in addition, wants to have certain processes digitised, automated or robotised for customers. Think of the automatic processing of invoices, procurement processes or CRM solutions with full integration through a managed link between the two software solutions.
You are an (IT) consultancy company, perhaps with your own citizen developers, and want to help organisations with digitisation, automation and robotisation of business processes with specific market or point solution knowledge. To do this, you implement a software platform.
In both cases, you can use our wealth of experience, knowledge and existing models in the field of invoice processing, procurement and CRM as a partner. Above all, you can use our links with ERP/financial software.
Save time and money with our platform
With the FileLinx no-code software platform, you can develop business applications at lightning speed. What's so unique about the platform? You can start with one of the ready-to-use business solutions and convert it into your own application in no time.
You can also model a specific process in the software platform. The FileLinx Platform is no-code; this saves time and money compared to developing the solution yourself by writing code.

Significantly reduces time to market and project risks

Excellent price/quality ratio

Unique solution to differentiate from standard solutions

Distributed customer portfolio and industry experience
FileLinx believe good partnerships are important. By joining forces, we work with our partners to provide the best solution for our customers. Itris is one of those partners that FileLinx enjoys working with. FileLinx and Itris bring out the best in each other.

Personalised service and standardised onboarding process
Access to partner portal for documentation, software and references
Operational support and free training
An above-average fee on licences and immediate build-up of recurring business
FileLinx connects with everything… truly everything! Below you'll find all systems to which FileLinx connects or has experience with. Can't find your system or framework? No problem. Our developers create a software link with your system on flat rate basis.
Complicated processes made easy
No matter how ambitious your wishes in the area of Procurement, Invoicing or CRM may be, our super-smart experts will gladly take up the challenge for you! The result: a solution that streamlines a complicated process and is easy to use.