FileLinx is the specialist in automating the purchasing process. This includes purchase requests, orders, receipt registration and obligations. But order matching, contract management, budget monitoring and supplier evaluation are also standard equipment.
FileLinx Purchasing builds a bridge between the Finance, Purchasing department and the rest of the organisation. With FileLinx, every employee can easily initiate a purchasing process.
The purchasing module is the solution for automating your purchasing process from request to payment.
Cost reduction can reach up to 80%
Uniform way for your users for all types of invoices
Full control over the entire purchase-to-pay process
Invoices are never lost again
Fully digitised process
Very high degree of matching due to registration and matching in one system
Supplier evaluation and purchasing in one system
Overview, reports and dashboards
Standard link with your ERP/financial software.
Purchasing process from A to Z
The purchasing process has many different steps. You save a lot of time by automating this. Starting with purchase orders sent to suppliers. This can be done via an automated process in FileLinx or OCI. Once you have received the goods or services, you register this as receipt with the order. The purchase invoice is automatically matched in FileLinx and entered for payment in the financial system.
The purchase module is specially designed to obtain prior approval for the purchase of a product or service and the correct procedure for the purchase process. The order is given a unique order number, so that you can match the invoice that follows later with the order and/or the receipt of goods.
Request & digital purchasing
The purchasing process starts with a request or an order. 
           Purchase request
Create a new purchase request.
Evaluate and process purchase request.
Supplier products are linked (in FileLinx or in the web shop via OCI link.
Purchase order is created automatically with a template.
Purchase order goes for approval to the pre-defined assessors.
Purchase order is sent to supplier.
          Purchase order
Create a new purchase order (also possible with OCI link).
Add supplier products directly to the purchase order.
If necessary, have the purchase order approved.
Send purchase order with template to supplier.
The products received or services rendered are registered in the purchasing module.
User reports the number of receipts in FileLinx.
In the case of partial deliveries, the difference in number is calculated automatically.
Status of the receipts is automatically adjusted in FileLinx.
Unavailable items are also processed in FileLinx. If a purchase order is not available, it can be cancelled in FileLinx.
Process & match purchase invoice
The next step in the purchasing process is to receive the purchase invoice.
The incoming purchase invoice is recognised and matched in FileLinx.
Our matching module automatically recognises all invoice lines and matches them with the receipt lines in FileLinx.
Any possible tolerances are applied.
In case of deviations outside the tolerances, the invoice will be forwarded to the right person.
Handling of payment details
A purchase invoice that matches the order in question is immediately made payable in your financial software. If the matching software finds deviations in, among other things, the numbers, prices and rules, you can have these deviations handled by a designated person.
Possible differences can also be booked on preferred accounts in your financial software. If necessary, the invoice can enter the approval process, based on the authorisation route. The approved invoices are made payable immediately.
Want to know more about invoice processing and matching? Click on the button below.
Temporary transfer of tasks
If someone is sick or unavailable, automatic follow-up can be initiated. Both can be deployed in advance or ad hoc. This way, no tasks are left unattended.
Before a product can be purchased, it must first be checked whether a budget is available. FileLinx allows for automatic budget monitoring. During the entire process, the budget is automatically updated.
With FileLinx, it is possible to keep track of which supplier a contract has been concluded with for the purchase of a product. Filelinx allows you to manage contracts throughout the entire lifecycle: from the draft version of a contract to renewal or termination.
The purchasing department keeps control by determining which product is purchased from which supplier. With OCI, it is possible to link standardised item groups to the preferred supplier. For example, all office supplies can be ordered from one webshop with which a contract has been concluded.
FileLinx is connected to the PEPPOL network.
What can you do with the purchasing module?
All users can submit a request.
The purchasing department can determine which products can be purchased.
The purchasing department can record the agreements per supplier in the system and ensure that orders are always placed with the right supplier.
The suppliers and item data can be extracted from the ERP/financial system via a link.
An internal project can be, for example, ICT costs, an energy contract, rental contract, marketing costs, office costs, etc.
Contract management is a standard part of the purchasing module.
A budget and budget manager can be determined for each project.
Structuring your purchasing process starts with the automatic processing of your purchase invoices. FileLinx develops and implements advanced software in the field of automatic recognition and processing of purchase invoices.
Our software is continuously under development, so you will always be up to date and in line with new developments in the market. The result is that you gain and maintain control in the purchasing and finance department.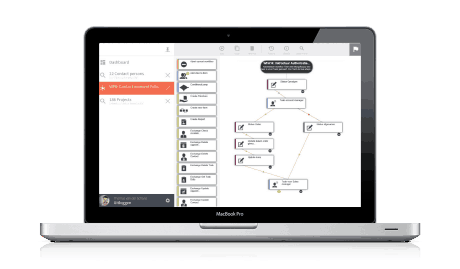 A workflow is a certain pattern of a working method within an organisation. With FileLinx, this can be fully automated. Once all the data has been recognised on the purchase invoices, the workflows can be set up. All workflows can be composed according to your preferences. For example, you can signal tasks via worklists, dashboard and email. Create an authorisation process. But you also have a digital archive of your invoices, purchase orders, articles, requests, claims and more. And all this is securely available via the internet.
With FileLinx Purchasing, the purchasing process is fixed from start to finish and you avoid the possibility that the wrong supplier was used or that there have been misunderstandings about the amount.
Start small and grow with it
Our purchasing module is modular, so you can start small and further optimise your purchasing process in phases. All departments within your organisation are involved in the full deployment of our purchasing module. This means that there must also be support throughout the entire organisation. We know from experience that automatically processing all purchase invoices with FileLinx Invoice can be the first step. After the successful completion of the project, we can work together to draw up a roadmap to work in phases towards a full optimisation of your purchasing process using the purchasing module.
Your partner for automatic invoice processing
We help around 400 organisations automate and robotise their purchasing process.
Over the past 20 years, FileLinx has developed various business solutions with customers and partners for specific processes. Including the purchasing process. With FileLinx, you have a standard solution that can be adapted in no time to the processes that make your organisation unique.